There are a few cities in America that get me every time, a real heart connection, and one is definitely New York City. I spent a lot of my life in New York back when I lived in the states, so I also have a lot of happy memories there. One particular borough that I love is Brooklyn. It's always been so inspiring to me, so eclectic, so New York.
Today I'm especially excited because I get to take you on a lovely home tour belonging to Lauren & Ben Lindsey in South Slope Brooklyn (@localhaus). Lauren is the Executive Director of packaging at Laura Mercier and Ben is the Managing partner at Localhaus, so both also have a real love for beautiful things. In fact, Localhaus is more than just a home…
---
Lauren + Ben Lindsey
This dynamic duo turned a run-down 4 story pre-war Brooklyn townhouse into their home and office where they work with local artists and makers to create photos and content, host projects for brands, or serve as a shoot location for film and photography.
They also rent their Guesthaus apartment whenever you want to visit NYC and if you like what you see inside, you can buy items featured in their home from their web shop! I always find my fellow Americans so clever when it comes to developing small businesses that are fresh and innovative, don't you?
Are you interested in learning and seeing more? Well, here we go… I even have a little interview with them below since I really enjoy chatting with all of the homeowners who share their spaces with us here on decor8.

Hello you two! First, let's talk about the basics. How big is your space,how many rooms and who lives there?
It's a 4 story townhouse. We live/work on 3 floors, and the top floor is a guesthouse. We share the space with Hunter (5) and Liam (2).
Ok now let's talk HOME. What does home mean to you?
EVERYTHING. We are homebodies through and through, so we spend a disproportionate amount of time fussing over everything from our next renovation project, to the perfect cozy throw for the sofa, to keeping fresh cut flowers in every nook and cranny.
So, what do you love most about YOUR home?
This pre-war house has some major character! Instead of trying to fix every quirk, we've leaned into the history of the home when making improvements.
Yes but…. Tell us the truth, what would you STILL like to change?
The home was originally used as a multi-family home. Eventually we would like to rethink the flow and layout of the house to reflect our unique use of the space. Right now our living space includes a secondary kitchen which comes in handy for food prep on photo shoots, but we'd love to remove it and build out a floor-through master bedroom with a giant soaking tub.
How would your describe your style?
A little bit Scandinavian, a little bit California, a little bit French. Lots of neutrals, plants, cozy textures. Our style is constantly evolving and changing and we are sort of addicted to the constant refresh.
What is your dream piece for the home?
A Roly Poly Raw Chair by Faye Toogood. Swoon.
When you have people over, how do you entertain?
We normally order take-out, grab a few bottles of wine and just hang.
How do you hope your guests feel when they visit your home?
Comfortable. We regularly host large creative teams for photoshoots so we've designed our home to be lived in. We invite guests to kick their shoes off and make themselves at home (actually that no-shoes bit isn't optional!).
And what may be playing if we dropped by sometime unannounced?
No Fun – Iggy & The Stooges

Young Americans – David Bowie

Under My Thumb – Rolling Stones

Rock and Roll – Velvet Underground

Crow Jane – Nick Cave
What is important to you when you visit someone else's home?
Being respectful of their space, and hounding them about sources for our favorite pieces!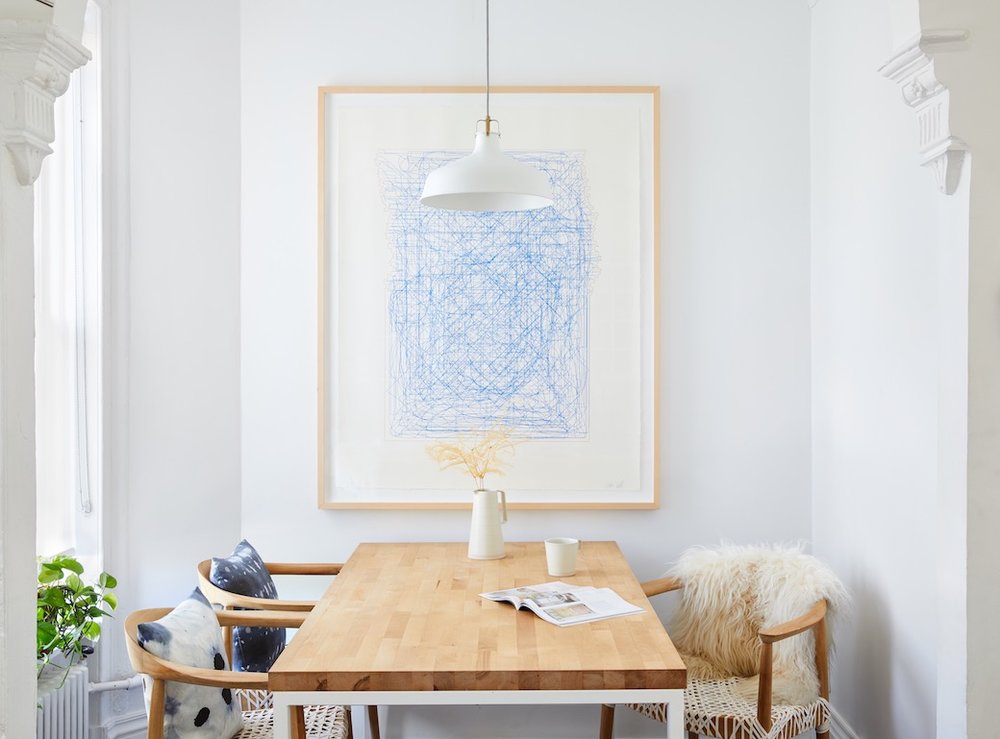 Now let's play a game of 6 Favorites! Ready?
1 // Favorite meal to cook at home:
Well, Lauren is Italian so our go-to comfort food is fresh pasta with meatballs (and lots of cheese!).
2 // Favorite candle/scents:
Ahh! You can't have just one, right? We love Diptyque – Figuier and Otherland – Chandelier.
3 // Favorite flowers and plants?:
For flowers – anything that lasts longer than a few days, and for plants – anything we can actually keep alive. Right now we are using a lot of Pampas grass inside and some fragrant lavender plants outside in our front courtyard.
4 // Favorite thing to do at home:
Bring out the popcorn (with marshmallows), pile on the pillows and cuddle up for family movie night.
5 // Favorite city to shop
New York City. What can we say? There's just the most amazing community of independent makers and creators of home goods here locally. And fashion. And everything else. A walk through just about any neighborhood in NYC is an immediate inspiration to try something new.
6 // Your favorite Instagram accounts:
@t_o_o_g_o_o_d – We're in love with everything Faye Toogood touches. We'd basically like to live in the House of Toogood …
@cntraveler – day dreaming …
@archdigest – one day! …
@label.frei_me – Such a beautiful feed. Nina has a great eye for the intersection of design and life …
@celestebarber – the best thing ever.
Thank you both so much for visiting us today on decor8 and sharing your home and guest loft with us! Have a lovely summer – and P.S. I know where I'd like to stay next time I'm in Brooklyn… 🙂
Love,
Holly
(PHOTOGRAPHY with permission: CHRISTIAN TORRES)