Have you visited Transylvania? If you recall from an earlier post, I was invited this summer to Romania (particularly Transylvania) and I couldn't say yes fast enough for two reasons. 1/ I WAS JUST SO INTRIGUED by this place. In my imagination, it seemed like a make-believe destination – the land of Dracula, dark and mysterious rolling hills, centuries-old European architecture… Fantasy-like, cinematic even. And 2/ I COULD LEARN SOMETHING OF VALUE. How rugs are made, and to watch weaving magic up close and personal. And okay there is a third reason. 3/ MY FRIENDS WERE ALSO INVITED. I love my blogger pals. Just look at our smiling faces in our cheesy selfie. What's not to love about this crew?
The moment we arrived in Romania, photographed outside of the plane by Igor in front. Agata, me, Niki, Desiree, Mette and Igor.
Rug manufacturer TISCA, who specialize in traditional, woven carpets, asked us to visit their factory and headquarters – Mette (Monsters Circus), Desiree (Vosgesparis), Niki (My Scandinavian Home), Agata (Passion Shake), Igor (Happy Interior Blog + Urban Jungle Bloggers co-Founder) and me.
Why us? Timing I guess – right place, right time. We were first introduced to TISCA at one of the world's most famous rug fairs, Domotex, in Hannover, in January 2018. I remember all of us being so impressed by their stand because it really stood out. My eyes lit up when I saw their natural, creamy white carpets in their contemporary living space at their stand, designed by the famous Lotta Agaton Interiors of Stockholm. I was so impressed and captivated by their collaboration with her because she is really at the top of her game. I reasoned that if someone as professional as Lotta believed in this brand, then there must be more to them. Her association with TISCA made me want to learn more about them. [Later, I wrote about them along with 7 other favorite rug dealers from the fair, you can see that here.]
TISCA rugs were on my radar suddenly. I remember the other bloggers and I were all like the paparazzi at their stand. I wanted to own ALL THE RUGS and redecorate my home immediately. It was truly a unique and stunning presentation for a flooring fair. Beyond the stand design though, TISCA was very kind and friendly to us and so focused on getting their story told – namely that the region of Romania where their rugs are made is a very special place because their weavers employ traditional methods passed down from generations. They also get their wool from all over the world from the best dealers and often, from very rare sheep like the Heidschnucke from my region here in northern Germany, or from other parts of the world like New Zealand.
A few months after Domotex 2018, I was asked to design a stand of my own for Domotex 2019 using my favorite rugs from the fair and one that I selected was from the beautiful TISCA because I never forgot this brand. Exactly one year later, my stand (all of the furnishings were on loan from the lovely Steinhoff Hannover) was revealed at the January 2019 Domotex fair. I was in the newspaper and my work appeared on all of the local trains (underground) for two days. It was a very special time in my career and I was so proud of my stand – it was inspired by Lotta's stand but I took it in my own unique direction and shared multiple rugs from several dealers and it was created for Domotex exclusively. [View it here.]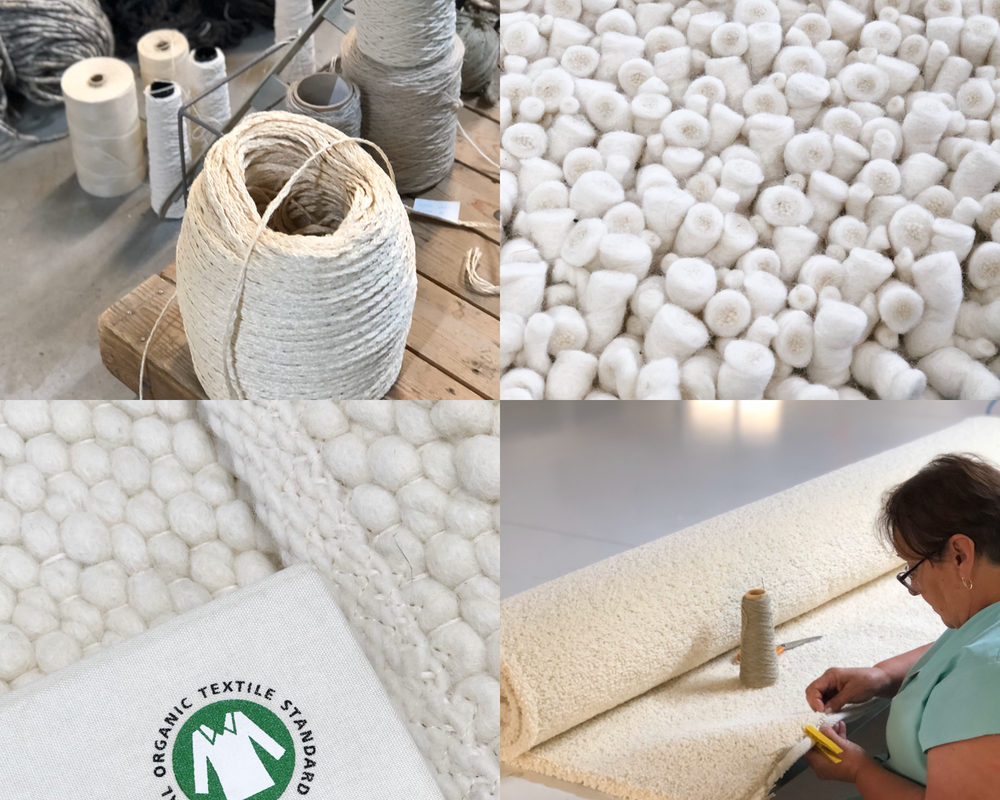 During the weeks leading up to the fair, I worked closely with TISCA to source the one special rug that I would loan and display in my stand. Right before the fair opened as I was setting up, TISCA delivered my rug with a smile – they were happy to accommodate me and this left a lasting impression because I like to work with brands who have nice things AND who are run by nice people. After Domotex 2019 wrapped up, TISCA reached out with news that they'd planned a trip for me and my blogger friends to see Romania and to tour their facilities – and wow, we all happily accepted!
So yup, that's how I ended up in Transylvania.
Now let's talk about rugs for a bit, particularly why I wanted to fly to Romania just to see a rug factory. I have many beautiful woven ones in my home, and have for many years collected them since relocating to Germany where we've had only had wooden floors (and with cold winters, rugs are mandatory). Rugs are a big part of interior design, and design is my life. But to be honest, I never thought a lot about the manufacturing side – mostly my focus is on the end result – the design, materials and price. I am first won over by aesthetics like the rest of us and then, by the quality and how durable it is, and next, price. But with so many important conversations now around sustainability and where things come from, I felt like going to Romania to learn about rug weaving was essential. Awareness helps us all to make informed (and hopefully better) choices that could be more positive for our homes and benefit those on the production side. We can reward the brands who work hard to produce products with good value and heart versus throwing our money at companies who could care less about the big picture. There is no plan(et)B, right?
I've toured paint factories, fashion mills, artist ateliers, potters workshops, ceramic studios, plastic flooring manufacturers, paper mills, you name it… The list is endless. Yet, rug weaving with yarn was largely unknown to me. I could guess how it was done or read about it, but I like to learn things with my own eyes and hands. Seeing Romania was more than just a lovely sight-seeing adventure (and it was!), but it was going to provide me with a lasting educational experience and that alone was my biggest lure. When I arrived and learned that we would each get to weave our own small rug, I was like a kid in a candy shop. More on that later in part 2 of this post.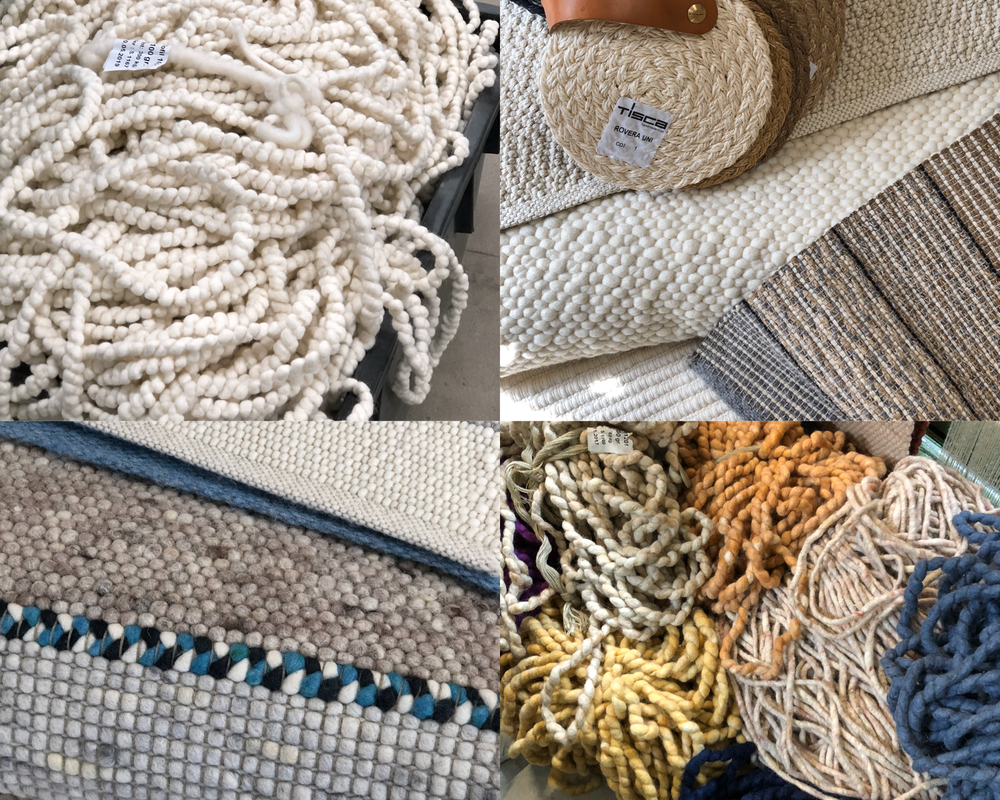 One last thing about purchasing from brands with a conscience that I want to say before moving on… When you think about where your money goes, why not invest in products that have a heart and soul behind them which help others and their local economy too? It's not always about price. It just can't be for all the things that we buy. Balance is needed. I read recently, "You can't do everything right but you can try to do some things right". Doesn't that feel good to read those words? Sure, you can choose to buy some things that are mass-produced, but you can also choose to save up over time and invest in things that can be enjoyed for years from brands with heart and soul. Saving for something builds our appreciation for it when we own it, which means our environment at home is also made more positive.
I like what my friend, Swedish trend hunter Stefan Nilsson, said recently in an interview, "Don't buy more, buy BETTER."
Now it's time to talk about my trip since this post is growing longer by the second. Part 2… Coming soon.
(Photos/Text: Holly Becker for decor8)
(This post has been written in collaboration with TISCA. All views and opinions are my own. Thank you!)